Yeah! It's finally here! The new
Magnolia-Licous Challenge Blog
. Diana asked me to be apart of the team back in August and it has been so hard to keep my lips tight about it!! There will be 2 challenges a month. One will be a color challenge the other will be an inspiration challenge. Our first challenge was "Pink and Yellow". Ok so I love pink and yellow, but boy did I have a difficult time with this. lol My mind is soooooo into Autumn and Chirstmas colors I really struggled with this! LOL So I ended up doing a baby card using the new
Baby tilda
. You can find it over in Diana Magnolia-licous store
HERE
If it's out of stock, just ask and I am sure it will be back in soon. Btw, did you see what the AWESOME Prize is??? $25.00 gift certificate to the
Magnolia-Licious Store
!!! Pretty Sweet!
I have colored Baby Tilda with Copic markers. The sentiment is from Close to my heart. The papers are some old DP's from when my daughter was a baby! The flowers are from Wild Orchid Crafts. I hope you join us over at
Magnolia-licous in the Challenge.
Be sure to check out Dianas
store
, she always has great specials and if she doesn't have it stock you can bet it will be soon. Just ask!
Here is our new blinkie! If you put it on your sidebar leave me a comment letting me know and I will have a little suprise (maybe a Magnolia stamp hrmmm) for one lucky winner!! ;-)) Don't forget I also have 100th follower Blog Candy posted
HERE
, so enter your name and blog into Inklinz for that one!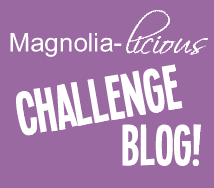 Hugs,